Sale!
Description
PROGRAM: INNOVATIVE SURF STYLE
Designed, tested, and developed by Ralf Bachschuster, The Barracuda V3 was created to be used for strapped-in riding but is also loved by many strapless riders. These phenomenal sticks are very fast, securely grip the water, and deliver an abundance of hold in the most extreme conditions.
The third version of this powerhouse has an entirely redesigned outline. Our goal was to take this radical shape and make it more well rounded for all to enjoy its high-end performance. The maximum width has been moved forward to allow more parallel lines towards the tail while the nose has been slightly widened to create a better balance and improved control and comfort. The new Barracuda V3 is easier to ride and more comfortable both in light winds and strong winds and now fits within a true "one board that does it all" program.
In addition, the new pintail winger tail was introduced with the idea to slightly increase tail width for better upwind performance when the back foot is moved forward, in front of the strap, and then drastically reducing the tail width right after the winger for an incredibly quick response and insane turns! The full mono-concave hull with heaps of rocker on the tail makes planing fast and holding control on choppy waters a breeze.
Developed and tested in Cape Town by one of the most influential and radical kiteboarders in the South African kite scene, the Barracudas are not only fast boards that were born to handle full power but can now be revered as the one and only board you need in your quiver!
Slightly wider outline towards the nose with a pintail winger tail to increase control and comfort while allowing great turning potential with plenty grip.
Full mono-concave hull with heaps of rocker on the tail. Planing fast and holding control on choppy waters.
Thicker volume midsection in between your feet to allow floatation and keeping momentum at a lower speed.
Thin rail profile on nose and tail to allow the best grip at high speed and lower the volume to keep the weight down.
'I like a steep, fast wave' Ralf Bachschuster about kitesurfing
CLASSIC PU (The Real Surf Feeling) TECHNOLOGY
The Classic PU construction has been developed to create pure surfboards for pure wave riding and to allow control over choppy waters. We have improved the weight and strength of the boards this year. We are now using a hi-volume lightweight pigment in the resin. This type of resin fills up the holes in the foam and reduces the amount of resin content in the glass fibres, making the boards lighter. The Classic boards have low fibre memory and low foam memory at the same time. This low memory gives our boards a proper surfboard feel. We recommend the Classic PU technology to the riders who love a comfortable ride which this construction provides through its flexibility.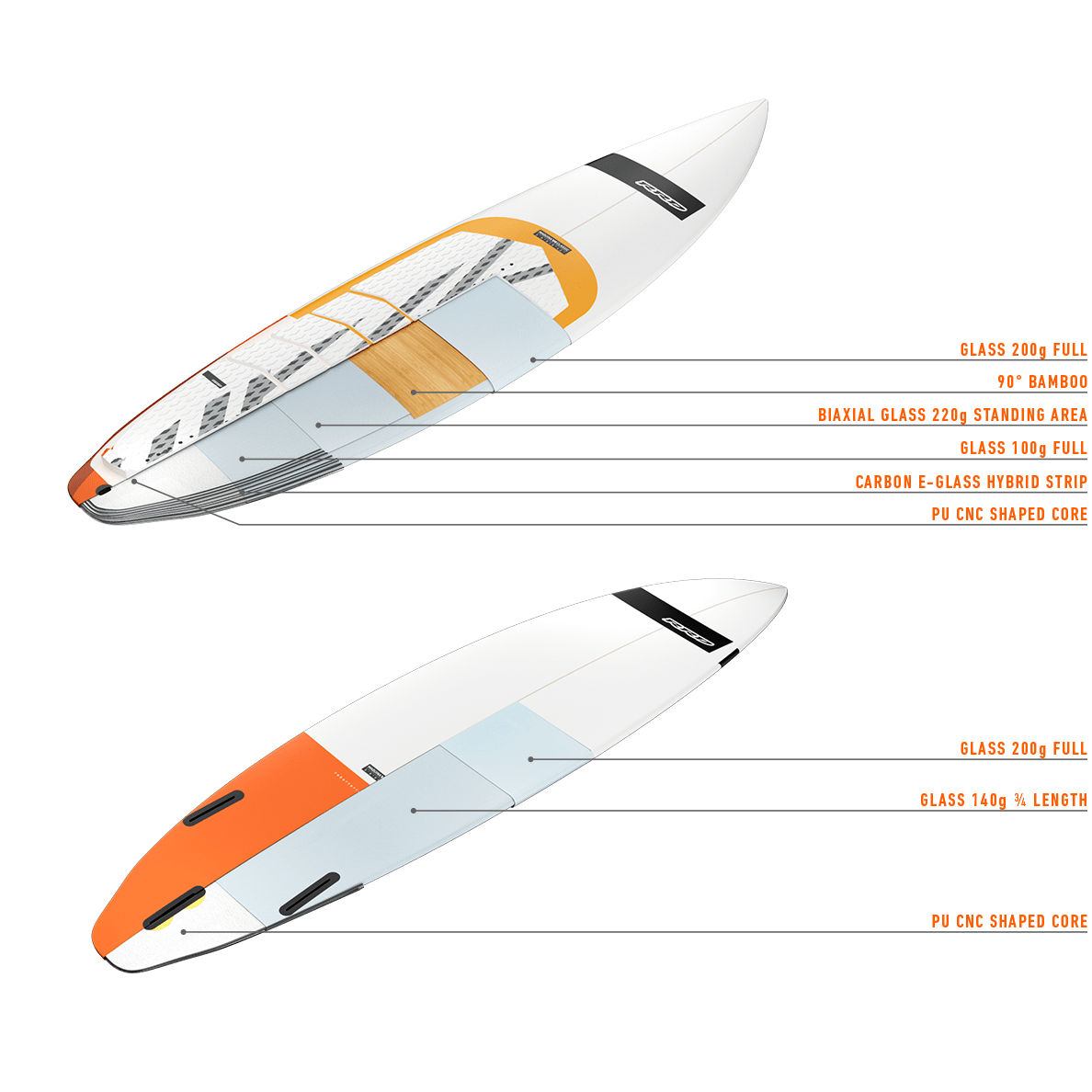 SPECS BARRACUDA V3 CLASSIC
| MODEL | SIZE " | VOLUME "LTS" | FINS | ARTICLE CODE |
| --- | --- | --- | --- | --- |
| BARRACUDA V3 CLASSIC 5'8″ | 5'8 "x 18 ¾" "x 2 ⅛" | 22 | K4 for RRD Thruster Set | 23BAK58 |
| BARRACUDA V3 CLASSIC 5'10" | 5'10"x 19 "x 2 ¼" | 24 | K4 for RRD Thruster Set | 23BAK510 |
K4 X RRD – THRUSTER SET
INCLUDED
Additional information
| | |
| --- | --- |
| Size | BARRACUDA V3 CLASSIC 5'8″, BARRACUDA V3 CLASSIC 5'10" |