Sale!
Description
PROGRAM: FREESTYLE PRO / WAKESTYLE
The fifth version of the Juice board is the ultimate wakestyle/freestyle board of our range. Developed and approved by the top riders of our freestyle team; Julien Leleu, Adeuri Corniel, Jerrie van de Kop, Alex Neto and Chris Bobryk. All of them have their own unique style, from Wakestyle to Big Air and from Freestyle to Grinding, but they all agree that the V5 is the best Juice ever made!
For 2019, a larger biaxial carbon strip has been added on the deck of the board; giving it more rigidity and reducing reverse flex to almost none. What does that mean? This is the stiffest Juice, with the most pop, ever made and it will still provide those smooth, buttery landings. The V5 will keep the characteristic outline of the previous version with the addition of a revised, more narrow, stance option. In case you need to throw doubles like Neto & Corniel, speed is as important as pop! In order to achieve this, we have increased the progressive scoop rocker line which now offers the perfect match between controlled landings and glide speed. 
Undoubtedly, you'll love the Juice V5. Especially if you want an explosive freestyle board that will shred flat water, eat-up chop, and withstand regular abuse from, sliders, kickers, and rails behind the kite or cable, like Chris Bobryk.
Witness the stiffness and find out why this Juice is worth the squeeze!
Additional Biaxial Carbon strip has been added to the deck; giving it more rigidity and reducing the reverse flex to almost none
Increased progressive scoop rocker line which now offers more controlled landings and forward speed
Narrower stance settings for ninja spins and smaller riders.
Constant outline shape, this gives you a more rounded pop and smoother curves
Hull channels on the nose, tips, and mid outline, that propels water across the board and gives it incredible speed, grip, and tracking capabilities
HD biaxial fibres lay-up
Lamination technology that results in less negative flex and a more rigid bottom combined with slightly more flex from the top. This results in a perfect weapon of choice for your wake style tricks through a more explosive pop, increased speed control and reduced vibration
Torsion box; more strength and reduced torsion. The unidirectional carbon reinforcements layers make the board stronger and stiffer which allows you to pop like a boss as well as providing you with more stability and control on landings
Upgraded Slick Base for sliding and grinding obstacles or using it as a great cross-over board to the cable park
Aggressive curve on the rocker line that gives you a smoother landing and better performance on choppy water
Different size breakdown, to cater for every size of rider
Reinforced symmetrical inserts, instead of asymmetrical rails, for simple boots adjustments combined with 30% more pull strength and 10% weight reduction
More rounded tips for maximum control on choppy water.
The Juice's special wakestyle lamination is created to give the board maximum rigidity and stiffness. As in all our boards, we use a CNC shaped Paulownia wood core. We then laminate with two layers of unidirectional carbon stringer on the deck and on the bottom of the board. Flex is a crucial point when it comes to wakestyle boards, that's why we added a special 'X' shaped carbon torsion box on the deck, to prevent any twists. On top of that, especially for boot users, we kept inserts instead of slider rails and added a carbon biaxial insert reinforcement for those heavy landings. Ultimately, the grind base bottom sheet is what you need to make the board last forever, even after many obstacle sessions.
Board and fins only, please order your RAD pads here.
SPECS
| SIZE | SIZE "CM" | FINS | REC. WEIGHT | ARTICLE CODE |
| --- | --- | --- | --- | --- |
| JUICE V5 40 | 136 x 40 | 4 x Juice 2,5 G -10 | 50 – 60 KG | 24JU40 |
| JUICE V5 41 | 138 x 41 | 4 x Juice 2,5 G -10 | 60 – 75 KG | 24JU41 |
| JUICE V5 42 | 140 x 42 | 4 x Juice 2,5 G -10 | 70 – 80 KG | 24JU42 |
| JUICE V5 43 | 143 x 43 | 4 x Juice 2,5 G -10 | 80 – 95 KG | 24JU43 |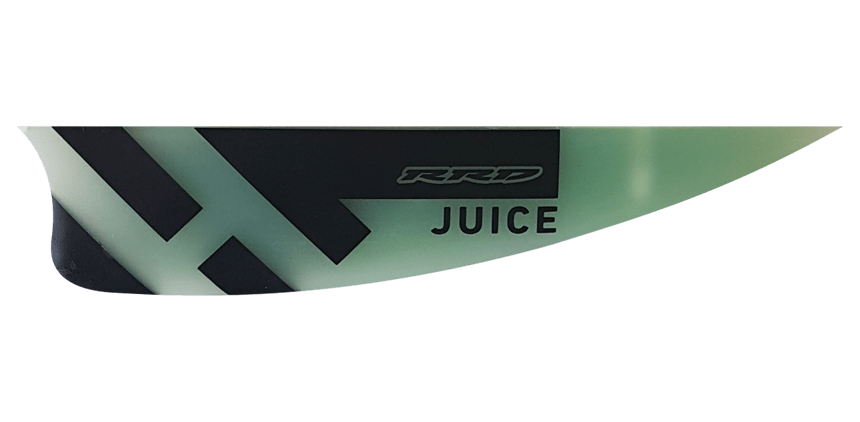 Additional information
| | |
| --- | --- |
| Size | 136 x 40, 138 x 41, 140 x 42, 143 x 43 |
| Rad Pad | Board only, Rad Pad V3 |
You may also like…
Out of Stock

Sale!

£

449 –

£

578