Sale!
Description
The Poison LTD V5 is a coveted creation and the most wanted freestyle board in our range since its introduction. The LTD construction consists of Biaxial Carbon layers on the top and bottom of the board with a special mix of Paulownia and lighter weight wood, CNC shaped core. It's 20% lighter, thinner, more responsive, and, of course, provides loads of pop. Once you use the Poison, you'll immediately fall in love with it. There is something about it that makes it feel just right.
A new outline shape will take the V5 and its riders to new heights. This board has a more continuous but subtle curve on the outline providing comfort and control in a wide range of conditions. A new lamination technology combined with the incorporation of unidirectional carbon stringers resulted in less negative flex and more rigidity. This new lay-up combined with slightly more flex from the top results in more explosive pop, increased speed control, and reduced vibration.
The more squared/swallow tips provide more surface area for grip and increased pop. This tip shape creates a higher angle of attack on the water surface and increased control. The Poison is an amazing freestyle board. This version has a carbon-reinforced track system that, in combination with our Rad Pads or boots, enable the rider to make the smallest adjustments needed to perfect their stance for maximum performance.
Picking your Poison is now easier than ever as the Poison V5 defines the Status Quo of freestyle boards.
Adam Super about the Poison Ltd V5:
"The Poison can be easily described in one word, incredible. The flex pattern is just right; blending comfort and performance seamlessly into an aggressive freestyle machine that can be appreciated by all skill levels. I love the pop and response from the carbon that is paired perfectly with smooth, buttery rides from the more continuous outline. The board's stiffness, speed, comfort and control allow me to maintain my laid back style, even in tough conditions. It's easy to be steezy when you got a Poison LTD under your feet."
Deck and bottom Biaxial Carbon 450 grams
Anti-torsion box tip design
Deep concave in the middle of the board
5mm sidewalls
CNC shaped mix of Paulownia wood core
New tip profile on squared/swallow outline
Reduced Thickness
Unidirectional carbon stringers
Carbon-reinforced ABS track channels for pads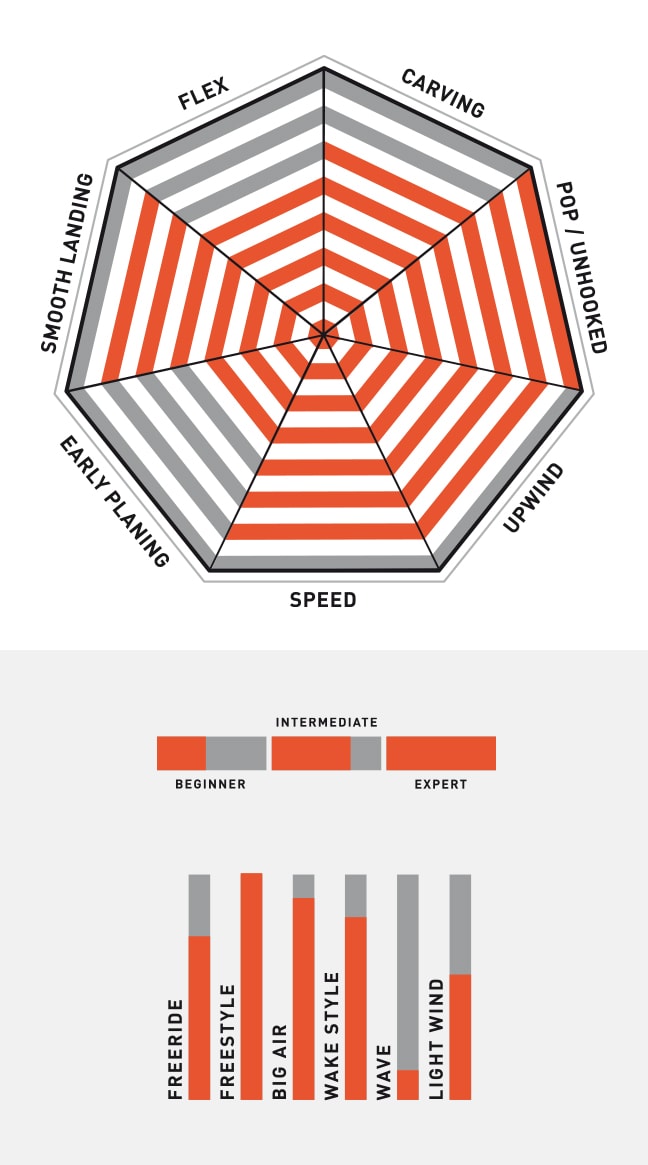 SPECS
| MODEL | SIZE | FINS | ARTICLE CODE |
| --- | --- | --- | --- |
| POISON LTD 39 V5 | 135 x 39 CM | 4 x FLOW 5 G-10 | 23PSL39 |
| POISON LTD 40 V5 | 136 x 40 CM | 4 x FLOW 5 G-10 | 23PSL40 |
| POISON LTD 41 V5 | 137 x 41 CM | 4 x FLOW 5 G-10 | 23PSL41 |
| POISON LTD 42 V5 | 138 x 42 CM | 4 x FLOW 5 G-10 | 23PSL42 |
| POISON LTD 43 V5 | 140 x 43 CM | 4 x FLOW 5 G-10 | 23PSL43 |
Additional information
| | |
| --- | --- |
| Size | 135 x 39 CM, 136 x 40 CM |